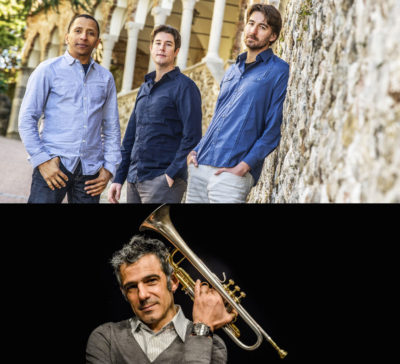 Paolo Fresu – trumpet
Bernhard Schüler – piano
Omar Rodriguez Calvo – double bass
Tobias Schulte – drums
In case of bad weather the concert will take place at the Court of Palazzo Morpurgo
Via Savorgnana, 10, 33100 Udine UD
ATTENTION: Seat reservations are valid until 21.20
"Giulia" – inspired and optimistic sound paintings by the successful modern European jazz trio "triosence"
In their new album "Giulia" the modern European jazz trio triosence pays homage to the beauty of life in eleven colorful compositions that could hardly be more different, optimistic and virtuosic. The legendary trumpeter Paolo Fresu is featured on the album as a special guest.
An exciting feeling of "dolce vita" relives in all the tracks on the album, which the German-Cuban piano trio Triosence – Bernhard Schüler (piano), Omar Rodriguez Calvo (bass) and Tobias Schulte (drums) – recorded in the picturesque Friuli Venezia Giulia region in June 2021. "giulia" is a musical liberation, full of security and lightness, and at the same time a tribute to the picturesque Italian region where it was recorded.
The emotional images set to music by Bernhard Schüler's mind evoke the happy and carefree moments of life: the physical proximity of a loved one, a trip to Tuscany or watching the squirrels transform your garden into a madhouse. "Giulia" combines various styles, tempos and jazz moods. Pieces like "Odd Times" or "Little Big Steps" seem nostalgic and dreamy. Others, however, like "Armando's Farewell" or the title track, have something overly optimistic, while "Squirrel's Rock" and "Ambiguity" seem decidedly rocky. Two compositions are dedicated to Bernhard Schüler's musical idols: one to the pianist Chick Corea ("Armando's Farewell"), the other to Bill Evans ("Needless To Say").
The legendary Italian jazz trumpeter Paolo Fresu contributed as special guest to three songs on the album and had a decisive influence on them: "He is one of my favorite musicians", says Schüler, "I had contacted him before, but unfortunately it never worked. Then last year he replied that in reality he would not enter into any collaboration, but that he found the style and atmosphere of triosenza so great that he would have made an exception. I was extremely happy and inspired ".
Recorded by the famous engineer and producer Stefano Amerio, Giulia was recorded in the summer of 2021 at the Artesuono Recording Studios in Udine. A place that drives Schüler as crazy as the whole of Friuli Venezia Giulia. Bernhard Schüler's compositions are also inspired by his style of harmony, warmth and security. He creates sparkling sound paintings with his music, which he sometimes calls "jazz song": "We deal with singable melodies with song-like structures. This attention to melody and songs distinguishes us from other jazz trios ".
The concert will be held on August 1, 2022 at 9:30 pm in Piazza Libertà in Udine. For information and reservations call 0432 1482124 or write to us at biglietteria@simularte.it.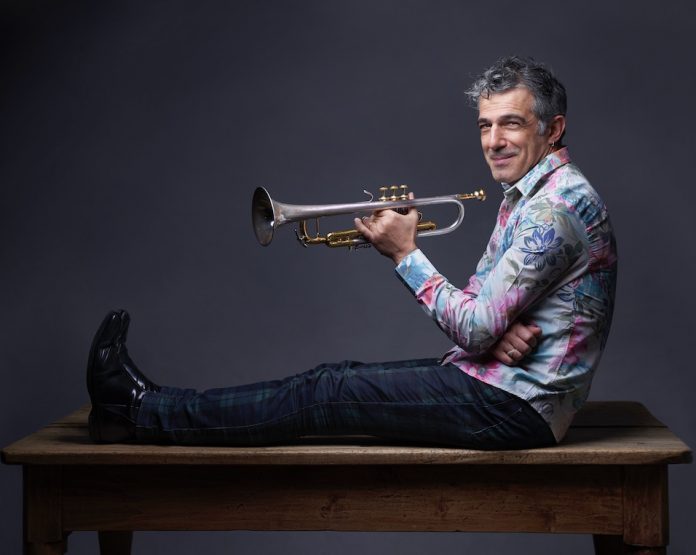 Paolo Fresu
The town band and major international awards, the Sardinian countryside and records, the discovery of jazz and the thousand collaborations, the love for little things and Paris. There are very few people capable of putting together such a primer of elements and transforming it into an incredible and fast stylistic growth.
Paolo Fresu succeeded precisely in a country like Italy where – for too long – jazz culture was known as much as Shakespeare or Matisse's canvases, where Louis Armstrong was little more than a freak of insane Sanremo shop windows and Miles Davis discovered "black" and good well after years of maximum creativity.
The "magic" lies in the immense naturalness of a man who, like few others, has managed to transport the deepest meaning of his magical land into the most precious and free of arts.
triosence
The band was founded by pianist Bernhard Schüler in 1999 and has gone through several formations. Triosence looks back at nine albums released so far. Musically and by name, triosence (a neologism derived from trio-essence) refers to the approach of equality of instruments, modeled on the American pianist Bill Evans. Schüler studied at the Cologne University for Music, won numerous national and international competitions and was nominated, among others, for the German Record Critics Award. He lives again in his hometown of Kassel.