If you ask a child to draw "a border" he will probably draw a line – straight, curved, zigzag – but still a line that separates two parts. For instance, when you design a building or an object, you build it by separating it from everything around it.
Think that you are planning the construction of a building: first of all you need to outline the space that this will occupy in the available area, secondly you have to divide the building into the various rooms (bedrooms, kitchen, services, etc.) and finally you can to plan the arrangement of furniture and objects in the various rooms. You will need to draw lines to delimit each space. This metaphor of the border as a line becomes very clear in the Gallerie del Progetto di Palazzo Morpurgo.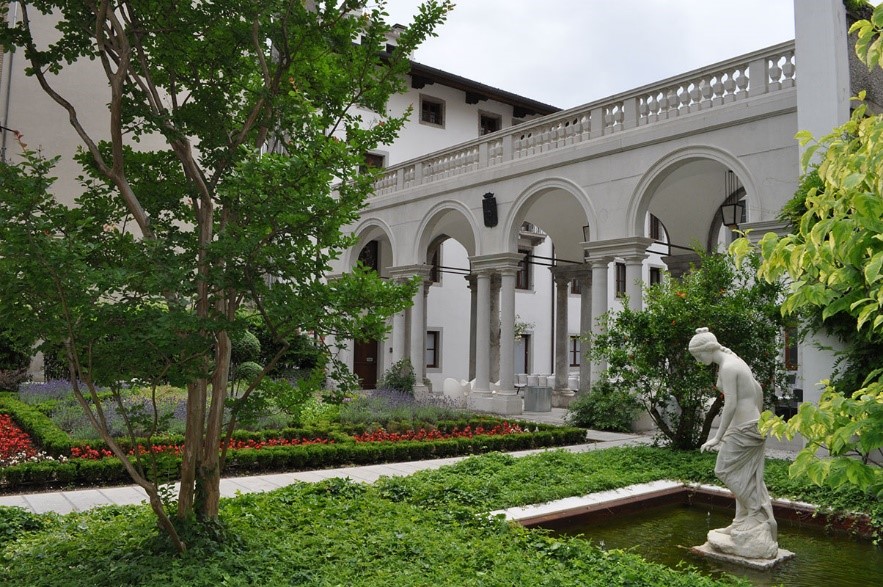 Corte di Palazzo Morpurgo, Udine
Copyright Civici Musei di Udine
Gallerie del Progetto are an architecture and design's archive full of about twenty thousand drawings, models and photographs. Since 2003, the Gallerie del Progetto have been based in Palazzo Valvason Morpurgo, where temporary exhibitions are also held. Here you can also admire the important funds of the architects D'Aronco, Zanini, D'Olivo, which were donated to the Municipality of Udine. The eighteenth-century building itself was donated to the Municipality in 1969 with the testamentary bequest of Enrico Morpurgo with the aim of making it a museum.
In recent years, the enchanting courtyard of Palazzo Morpurgo has been one of the centers of the More Than Jazz Festival. Indeed, even in music, lines are fundamental graphic signs: the seven lines of a score separate and therefore define one note from another, thus making music a universal language, capable of overcoming every boundaries.
Have you ever thought of the border as a mere graphic sign? Useful, but easy-to-cross at the same time.