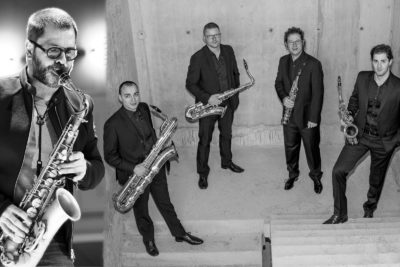 Rosario Giuliani – alto saxophone
MAC Saxophone Quartet
Stefano Pecci – soprano saxophone
Luis Lanzarini – alto saxophone
Alex Sebastianutto – tenor saxophone
Valentino Funaro – baritone saxophone
Miserere – the Italian sound through the centuries
The future of tradition
A sophisticated crossover project that has its roots in the noblest Italian musical heritage, in which the art of improvisation typical of the jazz language is combined with the stylistic features of the past.
A millennium of masterpieces drawn from the ancient Gregorian antiphonaries and from medieval laudariums, from the Renaissance counterpoint of the Roman and Venetian schools to melodrama; a journey through time and in the Italian sound entirely interpreted by artists who have distinguished themselves for their ability to renew tradition.
Unpublished arrangements, specially prepared by Maestro Mario Corvini to enhance both the refined phrasing of Rosario Giuliani and the enveloping research timbres of the MAC Saxophone Quartet, one of the most appreciated quartets for their work of protection and innovation of the Italian school.
Program
Guido d'Arezzo (10th-12th century): Ut queant laxis
Laudario di Cortona (12th century): Magdalena worthy of praise
Giovanni Gabrieli (16th century): Canzon second to four
Giovanni Pierluigi da Palestrina (16th century): Missa Brevis – Agnus Dei
Gregorio Allegri (16th-17th century): Miserere
Claudio Monteverdi (17th century): Toccata and prologue from "Orfeo"
Arcangelo Corelli (17th-18th century): Adagio from the Concerto Grosso op. 6
Antonio Vivaldi (17th-18th century): 1st mov from "Winter"
Gioacchino Rossini (17th-19th century): from "The Barber of Seville"
Gaetano Donizetti (19th century): A furtive tear from "Elisir d'Amore"
The concert will be held on 23 July 2022 at 8.45pm at the Teatro Italia in Pontebba. For information and reservations call 0432 1482124 or write to us at Biglietteria@simularte.it.