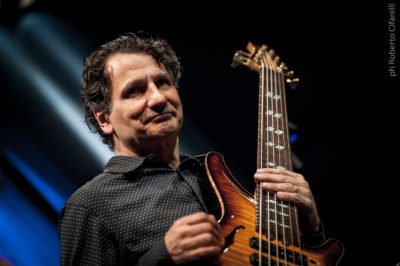 John Patitucci – bass
Yotam Silberstein – guitar
Rogerio Boccato – drums and percussion
In case of bad weather the concert will take place at the Court of Palazzo Morpurgo
Via Savorgnana, 10, 33100 Udine UD
ATTENTION: Seat reservations are valid until 21.20
Bassist John Patitucci, guitarist Yotam Silberstein and drummer Rogério Boccato joined together in a single jazz trio. Three stars of overseas music arrive in Italy with an unmissable tour in July and August 2022. the Trio has recently released an unreleased album: Irmão De Fé (available on the digital platforms I-TUNES – Spotify); nine pieces with Brazilian sounds and rhythms, in which Patitucci, Silberstein and Boccato come together in a musical balance between interpretation and improvisation. The album contains songs such as "Desvairada", where Patitucci's double bass and Silberstein's guitar masterfully juggle a lively 6/8, while "Nilopolitano" skilfully rotates between the 16 boppish melody and the trio's funky jams. One of the most technically impressive performances on the album is the song "Olha Maria".
John Patitucci, winner of two Grammy Awards and over fifteen nominations, has linked his name to the greatest artists on the jazz music scene; just to name a few Chick Corea, Wayne Shorter, Pat Metheny, Stan Getz, Herbie Hancock, Freddie Hubbard and many more.
As a young musician in Tel Aviv, Yotam Silberstein was quickly recognized as a prodigy artist and was invited to perform with many of the nation's best musicians. At 21, he performed at the renowned Umbria Jazz Festival in Italy, releasing a critically acclaimed debut album and embarking on an extensive tour of Europe.
Brazilian percussionist and educator Rogério Boccato was a longtime member of the "Orquestra Jazz Sinfonica do Estado de São Paulo", Recently moved from Sao Paulo to New York, Rogerio is present at percussion on Kenny Garrett Beyond's Grammy-nominated album The Wall and John Patitucci's Remembrance, also nominated for a Grammy, alongside Joe Lovano and Brian Blade.
The concert will be held on August 4, 2022 at 9:30 pm in Piazza Libertà in Udine. For information and reservations call 0432 1482124 or write to us at biglietteria@simularte.it.