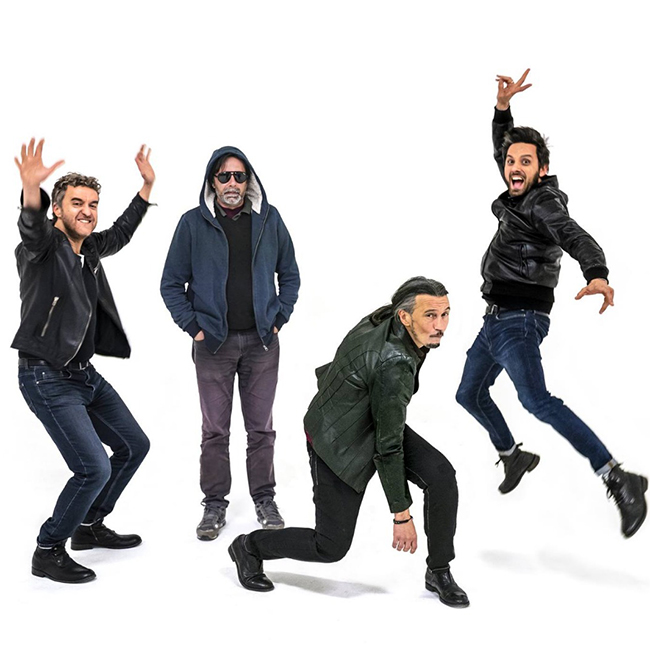 John De Leo – voice, sampler
Enrico Terragnoli – guitar
Stefano Senni – double bass
Fabio Nobile – drums
The standards in rock and roll version and the themes of the songs by Elvis Presley and Stray Cats re-proposed in an improvisational key. A very serious game of stylistic elements and antipodal languages ​​involving four excellent and broad-minded musicians: John De Leo on vocals, Enrico Terragnoli on guitar, Stefano Senni on double bass, Fabio Nobile on drums. An unpredictable and fun musical project. Also unreleased songs.
John De Leo (born Massimo De Leonardis) is an Italian singer and composer born in Lugo di Romagna on May 27, 1970. A transversal artist, with a flexible and experimental voice, his voice-instrument is grafted into an articulated compositional concept which draws on popular folklore, jazz, rock, contemporary classical, up to reading and performing arts. The critic and musicologist Stefano Zenni defined him as «the most important singer in Italy today».
Collaborator and promoter of countless artistic projects not strictly of a musical nature, he has collaborated with: Rita Marcotulli, Teresa De Sio and Metissage, Ambrogio Sparagna, Paolo Damiani, Stefano Benni, Banco del Mutuo Soccorso, Carlo Lucarelli, Stefano Bollani, Paolo Fresu, Danilo Rea , Furio Di Castri, Roberto Gatto, Franco Battiato, Enrico Rava, Carmen Consoli, Mederic Collignon, Ivano Fossati, Antonello Salis, Alterego and Louis Andriessen, Nguyen Le, Gianluca Petrella, GianLuigi Trovesi, Alessandro Bergonzoni, Maurizio Gianmarco, Fabrizio Bosso, Trilok Gurtu, Stewart Copeland, Uri Caine, Hamid Drake, Caparezza, Adrian Mears. Co-founder of Quintorigo, he was part of the ensemble from 1992 to 2004.
Currently he performs with his JDL Grande Abarasse Orchestra (nine elements), in the special project JDL Grande Abarasse Orchestra + Orchestra Senzaspine, an ensemble of thirty musicians, in duo with the pianist Rita Marcotulli and with the Jazzabilly Lovers Quartet. President of the Lugocontemporanea Cultural Association, since 2005 he has organized the Festival of Music and other expressive forms of the same name in Lugo di Romagna, under the patronage of Arci Bologna, the Emilia Romagna Region and Greenpeace Italy. In 2016 he was awarded the recognition of UNESCO Youth Ambassador for Culture.
The concert will be held on 1 July 2021 at 9:30 pm in Piazza Libertà. For information and reservations call 0432 1482124 or write to us at biglietteria@simularte.it.