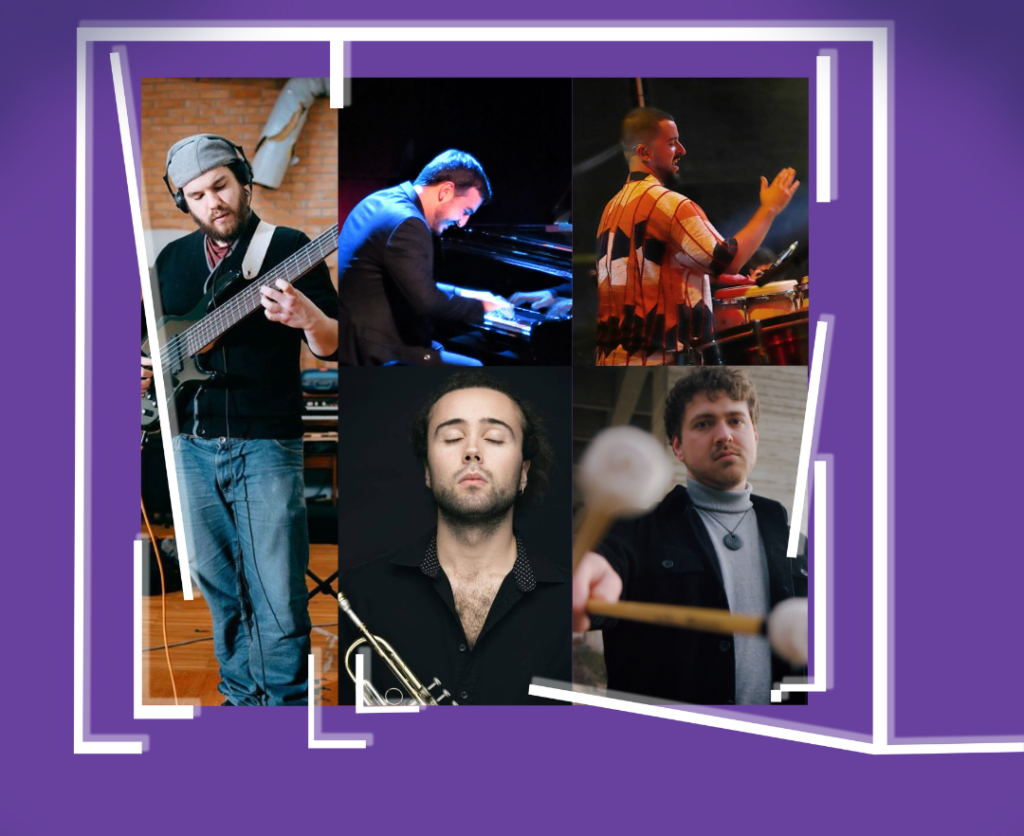 Jean-Baptiste Rousseaux – Trumpet
Giuseppe Sacchi – Piano
Paolo Jus – Electric bass guitar
Joan Buquet Rabal – Percussion
In case of bad weather, the concert will take place at the Mons. Pigani Auditorium in Reana del Rojale
Thanks to European collaborations launched in 2021, these four young students were selected through auditions by More Than Jazz's partner universities (HKB Bern, KUG Graz, Saint Louis College of Music Rome, Centro Taller de Músics in Barcelona, Conservatorio Giuseppe Tartini in Trieste) for an artistic residency in the Friuli Venezia Giulia region: 3 days of production under the guidance of the extraordinary Javier Girotto. On this occasion the quartet will perform the great jazz classics and original pieces.
Jean-Baptiste Rousseau
Born in 2001, Jean-Baptiste Rousseau is a French trumpeter and composer who, after graduating from the Vichy Conservatory in 2019, is a current student at the KUG University of Graz with Jim Rotondi. He performs in several projects, as well as devotes himself to composing and arranging music for various ensembles.
Giuseppe Sacchi
Born in Salerno in 1994, Giuseppe Sacchi is a pianist, composer and sound designer with Italian-Colombian origins. He boasts a diploma in classical piano in 2015 from the Conservatorio "S.Cecilia" in Rome, a Master's degree in Sound Engineering in 2018 from the University of Rome Tor Vergata, and a second-level diploma in jazz piano in 2022 from the Saint Louis College of Music in Rome. An explorer and lover of music in all its aspects, he constantly strives to combine classical and jazz traditions with contemporary techniques of composition, arrangement and sound design. He recently won awards for sound design of short films at the Pesaro Film Festival and the "Desencadre – Festival du Court Experimental" in Paris and is currently engaged in the production of his first album of original compositions for piano trio.
Paul Jus
Paolo Jus, a musician born in 1992, is currently attending the two-year electric bass course at the Tartini Conservatory in Trieste after graduating from the same conservatory in jazz guitar in 2016. He teaches bass, guitar and ensemble music and boasts collaborations with various artists from Friuli and beyond as well as appearances at jazz festivals throughout Italy. He is the leader of the group IZ, with which he has two albums to his credit and composed and performed live the music for two short films in 2017 for the "MUSYC – Cinema, Music and Live Concerts" festival. In 2020 his album "il desto onironauta" was associated with one of two jazz notebooks "Digital Divide," and in 2022 he collaborated with the company "L'Arlecchino Errante" as composer for the music for a Russian transposition of Carlo Goldoni's "Il Bugiardo." In December 2022 he composed and recorded music for the exhibition "…of Everyday Courage: Alphabets between Nicola Grassi's magnetism and graffiti" at Scala Contarini in Venice.
Joan Buquet Rabal
A Spanish drummer and percussionist born in 1993, Joan Buquet Rabal is a current student at Centro Taller de Músics in Barcelona. In addition to being a drum teacher at "Aula de música contrapunt" in Malgrat de Mar, he performs as a drummer and percussionist for several multi-genre music groups ranging from jazz to Latin music to flamenco to reggae and hard rock.
FREE ADMISSION
For info and reservations:
0423 1482124
biglietteria@simularte.it