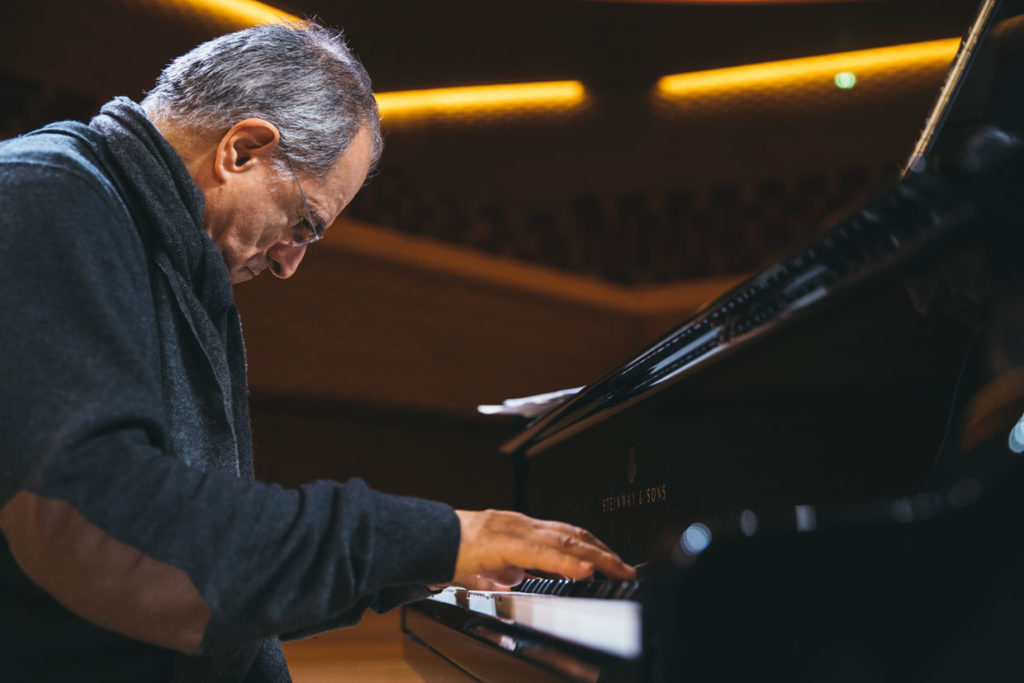 Enrico Pieranunzi – piano
Zan Cesar – trumpet
Riccardo Pitacco – trombone
Vincenzo Quirico – double bass
Käser Xavier Nelson – drums
Enrico Pieranunzi will perform and lead an ensemble of 4 students selected for the occasion by prestigious international music universities: 1 from the St. Louis College of Rome, 1 from the KUG – Conservatory of Graz, 1 from the Bern University of Arts and 1 from the Edinburgh jazz festival. The young musicians will meet for the first time and will experience an artistic residency in FVG that will allow them to discover the territory and will perform on the festival stage with an unpublished program.
Pianist, composer, arranger Enrico Pieranunzi is one of the best known and most appreciated protagonists of the international jazz scene. He has recorded more than 70 CDs under his name ranging from solo piano to quintet and collaborating, in concert or in the recording studio, with Chet Baker, Lee Konitz, Paul Motian, Charlie Haden, Chris Potter, Marc Johnson, Joey Baron.
He has performed, as well as on the stages of the main European countries, in South America, Japan, and, numerous times, in the United States.
He is the only Italian musician to have played several times and to have recorded in his name in the historic "Village Vanguard" in New York.
Among the numerous awards for his musical activity, the three affirmations (1989, 2003, 2008) as best Italian musician in the annual "Top Jazz" referendum of the magazine "Musica Jazz", the French "Django d'Or" (1997) as best European musician, the 2014 Echo Award in Germany as "Best International Piano Player" and the "A life for jazz" award awarded to him again in 2014 by the Musica Jazz magazine.
Several of his compositions have become true standards played and recorded by musicians from all over the world. These include "Night Bird", "Don't forget the poet", "Les Amants", "Fellini's Waltz", "Je ne sais quoi", "Trasnoche", "Coralie". Some of them have been published in the prestigious US "New Real Book".
In 2009 the French musicologist and journalist Ludovic Florin presented at the Sorbonne as his doctoral thesis an extensive paper dedicated to the musical language of the Italian pianist entitled:
"Par-delà les clivages ou l'harmonie des contraires: une approche de la musique d'Enrico Pieranunzi".
"Enrico Pieranunzi introduces new life into contemporary jazz"
(Ray Spencer, Jazz Journal)
"The most lyrical and imaginative of today's pianists"
(All About Jazz)
"Among the best pianists in the world"
 (The Wall Street Journal)
The concert will be held on August 5, 2021 at 9:30 pm in Piazza Libertà. For information and reservations call 0432 1482124 or write to us at biglietteria@simularte.it
Foto © Elisa Caldana